English summary/ Cat boarding for your feline friends!
Leaving town for the weekend, or are you planning an extended trip? Treat your cats to a stay at Kattenhotel Catz! We are passionate about creating a safe boarding haven for your cat, when they are away from home.
Our hotel for cats only, was established in 2016. A luxury feline facility in Deurne near Eindhoven and Venlo in the Netherlands. This is a short summary in English for the most important things, if you still have questions, please contact us by mail or phone! If you call in the evening, my husband will be able to speak to you in French, and i have no difficulties with English or German.
My name is Eva D'Hoe. I've been working as an veterinarian assistant for 10 years. I'm married to Koen and we have 2 children, Noah and Jill. My husband is a veterinarian and he will also oversee our cats in the evenings. We have several other animals in our garden, including chickens, rabbits and sheep.
At Kattenhotel Catz our guests live together in a group. We have chosen to look after our cats in a small group and not to place them in cages. The hotel has many places to sleep, hide or play and we try to avoid as much stress as we can. We also have a fenced off playground outside for our cats, so that they can enjoy some fresh air and get to know our farm animals. During the day we'll provide the cats with unlimited food. We serve our guests Royal Canin dry food of the best quality. In the evening we have all kinds of meat and fish for each of them. Whiskas, Sheba, Gourmet or another choice. If your cat has special wishes please let us know!
For cats who need special medical attention we have 3 special suites. It is possible that a cat with for example diabetes or kidney disease comes to stay with us. All suites are designed to provide your pet a warm safe space as well as stimulation during their stay. Each suite includes vertical space for a feeling of security, comfy beds for sleeping, scratchers for stretching and a place to hide for more quieter cats. They also have an extra outside area, so they can enjoy being outside. Pictures of our hotel can be seen in the foto album (click here).
Prices
One cat in the group €10,= per night (this price includes food)
One cat in a suite, for extra care € 15,= per night (you will have to provide your own cat food and medicine)
One cat in a suite with diabetes, € 20,= per night (you will have to provide your own cat food, and medicine)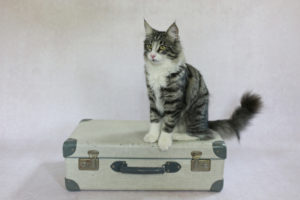 Our health requirements for boarding cats reflect our commitment to the highest standards of safety for each of our feline guests. We require that all cats who are staying with us, to be up to date with their vaccinations. Cats who do not have a vaccination can NOT stay with us!
For cat boarding at Kattenhotel Catz, please take notice of the following points:
All cats must be free from transmittable diseases, worms or other parasites and be treated a week before their stay with us,
All tomcats aged five months or older must be neutered,
We have a special offer for young kittens! Please contact us for the terms for a free night at Kattenhotel Catz for kittens,
All cats must have their collars removed,
We will take care of your dearest cats. If they need medical care, we will take them to a vet. The treatment will be charged at the owner.
Don't hesitate to contact us if you have any questions regarding luxury cat boarding at Kattenhotel Catz for your cat! These are the general terms and conditions, of the national organisation Dibevo.